Preventing Grease Trap Blockage
Grease is a leading cause of sanitary sewer overflows. And when it happens, it disrupts your business and can have a long-lasting impact on your hard-earned reputation. Sewer backup can also increase health risks and pollute our water supply. AAA Pro Plumbing helps prevent these disruptions by regularly cleaning your grease traps. In addition, we "jet" related flow pipes to prevent untreated wastewaters from entering our neighborhoods and waterways. This not only protects your business and the environment, it reduces your liabilities and costs by preventing costly clean-ups from blockages and overflows.
Grease Trap Collection, Transportation, Recycling and Disposal
AAA Pro Plumbing is the nation's largest grease trap service provider. Unlike many grease trap companies that just skim the top of the grease trap, we clean and evacuate 100% of the trap's content. This extends the life of your trap and protects your business – All while making sure your grease trap waste is managed in total compliance with all regulations and industry best practices. Whether you're a multi-outlet corporation or a single location enterprise, our fleet is ready to roll – giving you more time to grow your business.
Why AAA Pro Plumbing
AAA Pro Plumbing has the most advanced network for managing grease traps, which includes our modern fleet of vacuum tankers, our state-of-the-art processing, and recycling facilities, as well as our 24/7 customer service center. These waste collection, transportation, processing and service assets, combined with our industry-leading Certificate of Assurance, has helped AAA Pro Plumbing rise to the top.
AAA Pro Plumbing difference includes:
24/7 Customer Service Center
Efficient, single vendor service provider
Dedicated account services team
Online manifests
Competitive rates with volume discounts
100% compliance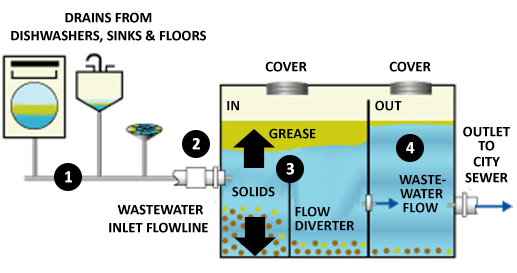 Your kitchen's complete plumbing system, including sinks, dishwashers, floor-drains and mop-sinks, drains into the grease trap or grease interceptor system.
Wastewater flows into either an interior or exterior (usually in-ground) grease trap system. A baffle separates the inlet and outlet of the trap, keeping grease in.
Grease floats to the top of the grease trap, while solids settle on the bottom. The trap or interceptor must be vacuum pumped regularly by a skilled service provider to remove the entire contents of the trap.
Clean water then continues to flow into your sewer or septic system.